Facebook has been a big platform for running ads and promoting many businesses.
Looking for a better way to optimize your Facebook ads? This new feature of the Facebook ads will help you in Facebook's next-level ad optimization.
Here we'll explain the initial look at Facebook's new Optimize Text Per Person Feature to Improve Facebook Ad Performance while creating the Facebook ads.
What is this new feature – "Optimize Text Per Person Feature"?
Facebook's Optimize Text Per Person Feature is an optional ad-level control. When it is enabled Facebook can shift your ad copy from one field to another to improve performance ie., your description may appear as primary text or headline could appear in the description field.
The Facebook ads algorithm reviews your primary text, headline and description to determine which field to place where. The algorithm automatically customizes field placement for each and every user, optimizing ad delivery every time.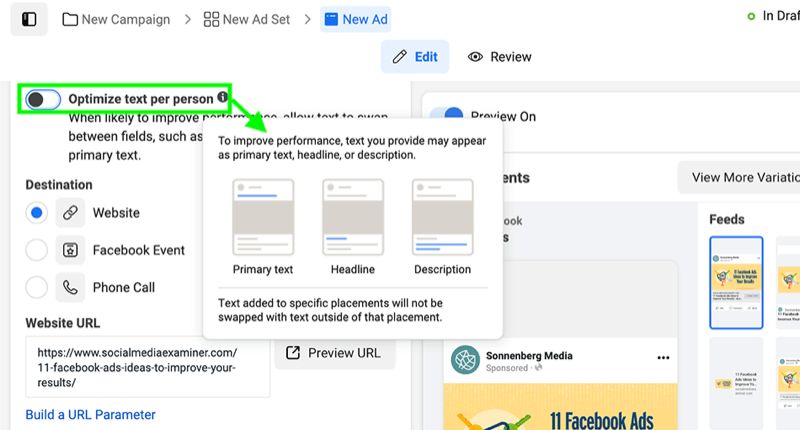 Facebook launched the Optimize Text Per Person feature for Facebook ads in June'2021. As of July'2021, the platform is still gradually rolling out this new feature, which means not all ad accounts have access yet.
Reasons to Optimize Facebook Ads Text Per Person
The Optimize Text Per Person feature has the potential to take you next-level Facebook ads.
Reduce Campaign Setup Time
When you optimize text per person, you may be able to streamline the campaign setup process. Because Facebook automatically determines which field to display where, that means you can spend less time fine-tuning the copy upfront. You can always do A/B testing for the performance and compare.
Decrese the Need for Testing Copy
If you're a beginner and you need to take approval for each word you type from a client in case if you're running it for a client or somebody, with text optimization enabled, you may not need to test the copy every time for every line for each placement. This feature will help automatically by replacing the headlines and description by swapping showing differently for each person.
To run a successful Facebook ad, choosing the right audience is the most important. And you typically do more research. The Optimize Text Per Person feature makes it easy to add another layer of research to the mix. By running the multiple ads using this feature you can check the performance with audience combined
Maybe hoping you already know your audience very well. Assuming you might be running similar campaigns for months and you'll be performing quite well. This might also add up.
Increase in (ROS) Return on Ad Spend
When Facebook ads perform better, they might boost brand awareness, drive more website traffic or generate more leads or more sales. But this might also add upon it.
How to Set Up a Facebook Ad Campaign Using "Optimize Text Per Person"
You have reached here and looking for this blog assuming you might be knowing how to set up the Facebook campaign and have already run the Facebook ads previously.
Now following the same steps – creating the Facebook Campaign
You start with selecting the Campaign objective, you select one from those, this feature doesn't currently support all the objectives yet. Now considering you have selected the Reach objective.
Then you create ad set and set the budget based on your requirements.
Next, you choose the audience, placements, devices, optimization & delivery, then you set up ad by choosing the format like single image or video or carousel, etc based on your business or the necessity.
Next, you add media and now you see the Primary Text, Headline (Optional), Description (Optional) – under this you see this feature called "Optimize text per person" enable it.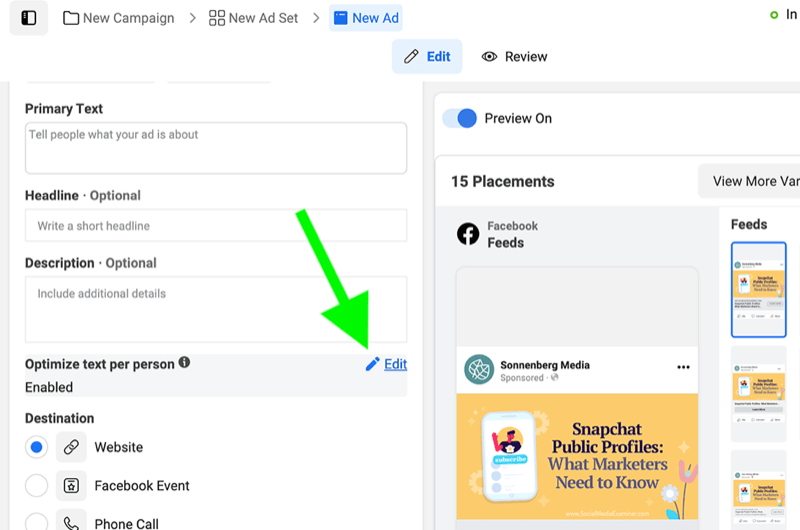 When to Use Optimize Text Per Person on Facebook Ads
This feature may be great for some advertisers and may not be great for some advertisers. So one should know when to use Optimize Text Per Person while running Facebook ads.
In some cases, your messaging is flexible, like your messaging may not be tied to a specific field. If you just want your ad to perform well and really you don't mind where the ad copy appears, then this feature is worth testing.
In other cases text primary text might utilize all available space or include critical messaging. The headling and description might rely on the context provided in the primary text and creative. Then this might not be your case.
The Facebook ad has the dynamic creative, if you're frequently running the ads using the dynamic creative then this feature may not be the right choice. If you're decided on the creative on another way to test copy only, then Facebook's Optimize Text Per Person feature is ideal.
With Facebook's text optimization feature, you can see what's driving clicks and conversions now and spot behavioral trends.
Conclusion
The Optimize Text Per Person feature is Facebook's newest option for improving campaign outcomes with a little help from the Facebook Ads Algorithm. With this feature, you can optimize ad text for each user to get better results, improve productivity, and analyze valuable behavioral trends.
Comment us your experience on this feature.
Check our other blogs here